Director and Curator: Norio Tsuyuki
Norio Tsuyuki, signing at the enrollment of The Guild of St. George(registered as a Charity 1878), at Sheffield 22, November 2003.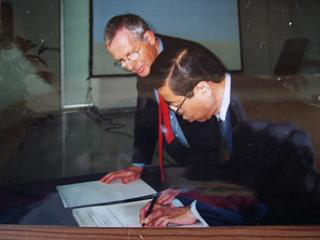 Norio Tsuyuki is a graduate of Osaka City University, where he specialized in economics. In 2003, he studied in M.A. Ruskin Studies at Lancaster University and then left from the course before graduation in 2004.
He has been working for Tsuji Culinary Institute from 1967 and was appointed as a trustee of the organization in 1984.
Now, he is a senior adviser of the organization.
Organization belongs:
The Ruskin Association of Tokyo,
Japan Association for Cultural Economics, The Victorian Studies Society of Japan, International of Ninomiya Sontoku Association, The Guild of St.George.
Publications includes:
Co-translation: (from English and French to Japanese)
Prophets of the Nineteenth Century, Carlyle, Ruskin, Tolstoi (May Alden Ward), Paru-Shupan, Tokyo, 1999
Facets of Ruskin (James S. Dearden ), Nonisaku-Olive no Kai, Yokohama, 2001
300 RECIPES of OMELETTE (Narcissa Chamberlain), Shibata Syoten, Tokyo, 1970
Le Repertoire de la Cuisine (T. Gringoire et L. Saulnier), Sanyo Syuppan Boueki, Tokyo, 1971
Collaborative publication:
Producing the Western Cuisine, Shibata Syoten, Tokyo, 1970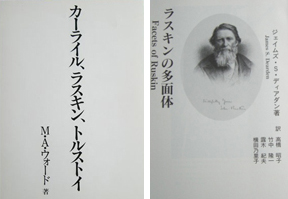 Essays:
'Ruskin's Letters in the Mikimoto Collection and Letters from John Ruskin to Rev. J.P.Faunthorpe M. A. ',
News Paper of The Ruskin Library of Tokyo, no.31, September, 1996
'The Centennial of John Ruskin's Death Events and Exhibitions, May at the Millennium, England',
News Paper of The Ruskin Library of Tokyo, no.40, March, 2001
'Ruskin in Japan. Activities & Studies, 2000-2001',
The Companion : The Journal of The Guild of St. George, vol.1, no.2, Autumn/Winter, 2002
'John Ruskin and Sontoku Ninomiya (a Japanese peasant sage)',
News Paper of The Ruskin Library of Tokyo, no.43, September 2002
'Visiting The Guild of The St. George Guild, Sheffield',
News Paper of The Ruskin Library of Tokyo, no.46, March, 2004

Thesis:
Gastro-Economy, Osaka City University, Osaka, 1992